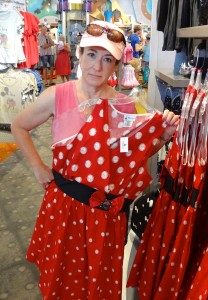 We are Disney fanatics. That is really not news to those who know us. We go to Disney for the weekend on a fairly frequent basis. One of my favorite things to do while in the parks is to "people watch." Of  all the places on earth, Walt Disney World draws such a vast array of people!
I love watching the little girls dressed as princesses and boys who have armed themselves with lightsabers or pirates swords to fight off the day's dangers. Watching them simply be children in a world of fantasy is envious. Over the past couple of years, however, I have seen a disturbing trend. – adults dressing up as their favorite characters as everyday park attire. And, it seems like I am not the only one who has noticed. Disney is now starting to offer adult-sized character garments for any sized woman. Yes, you too, can don a beautiful red polka dot dress just like Minnie!
Don't get me wrong, I have worn my share of Mickey Ears and still wear my Mickey Santa hat each Christmas. It is true, that all bets are off when you walk through those magical gates. Only at Disney can an adult wear a blinking Goofy hat, and no one bat an eye. Mickey Ears and silly hats are perfectly fine regardless of your age!
But, when grown women (and I am talking 30s and older) begin to dress as Minnie, Tinker Bell, or Cinderella . . . well, it's just not quite as cute. I don't know if it is a desire to capture a childhood lost, or if it is simply not thinking. Regardless, it is just a bit weird.
So, here are my "What Not to Wear at Disney" guidelines for anyone over 25.
If you are not naturally covered with fur and have a tail . . .
If you are taller and older than the character in the park . . .
If you cannot speak duck, chipmunk, dog, or pixie . . . .
If you were not born with fairy wings, have never seen an actual pumpkin turn into a carriage, or never met seven dwarfs who mined for gold …
If you are not attending a costume party nor being paid to look like a particular character . . .
. . . then please do not try to dress like Minnie Mouse, Tinkerbell, or any one of 11 Official Disney Princesses. (Can you name them all?)
I love seeing little girls dress as their favorite Disney characters and then get so excited when they finally meet the "real" Cinderella, Snow White, or Minnie Mouse. What is not so fun is to see a thirty-something woman, dressed as Tinker Bell, and walking through a park pretending she is ten years old again.  . . . that takes people watching to a whole new level!